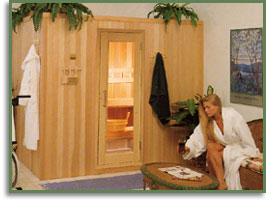 Does your home or business have a corner that would be the perfect place for a sauna?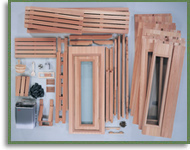 The design of our modular, free-standing saunas is ideal for installation in any existing space.
These modular saunas are perfect for those who want a high quality sauna, but with the ease and portability of modular sauna assembly.
There's no construction needed; only simple assembly on a numbered base frame.
Pre-assembled wall and ceiling sections are shipped in easy-to-handle panels for quick assembly in any setting.
Modular Sauna Features
Modular sauna panels feature Select Nordic Whitewoods or Western Red Cedar tongue-and-groove boards on the interior and exterior, fiberglass insulation and foil vapor barrier within the panels.  For walls that are hidden or are to be painted, papered or tiled, wood veneer is a great option.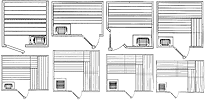 From 4′ X 4′ to 12′ X 12′, Alpine Sauna and Steam offers numerous standard modular sauna room sizes. Not interested in standard size? We can also manufacture custom modular saunas to meet your needs. Alpine Sauna and Steam offers a limitless variety of standard and custom-made sizes and shapes.
Modular Sauna Standard Features:

Select Nordic Whitewoods or Western Red Cedar

Prefabricated, insulated panels for walls and ceiling

Interior and exterior trim

Pre-assembled benches

Heater guard rail

Pre-hung door

Wooden duckboard or plastic mat flooring in walk area

Bucket and ladle

Wall light and thermometer

Headrests and backrests

Modular Sauna Optional Features:

Glass window panels

All-glass door

Bench skirts

Neo-angles

Accessories

Exterior controls, digital or standard

Misty heater

Luxury Benches

Wall-to-wall duckboards

Deluxe backrests

Valance lighting