Why Use a Steam Bath?
A steambath refreshes – deep cleans and moisturizes the skin for a healthy glow. Steam relaxes tight, overworked muscles, reduces aches and pains in joints and relieves congestion. Steam rejuvenates the body, and revitalizes the mind. A steambath conserves water as well – an average steambath consumes less than one gallon. A personal steambath is an affordable luxury that will improve the quality of your life in ways you can only imagine.
Steambaths require no additional floor space. A new shower space can be upgraded for steam shower by adding water proof lining on walls and ceilings and then adding the finishing materials such as ceramic tile, stone, slate, granite or glass.
In today's hectic world, aren't we all looking for a private retreat — a place to become refreshed physically and mentally? With our steambaths, your master bath suite becomes your own private European spa. Pamper yourself with an early morning pre-shower steambath, or an end of day stress reducing steambath. Wrapped in luxurious steam, your mind and body are at ease.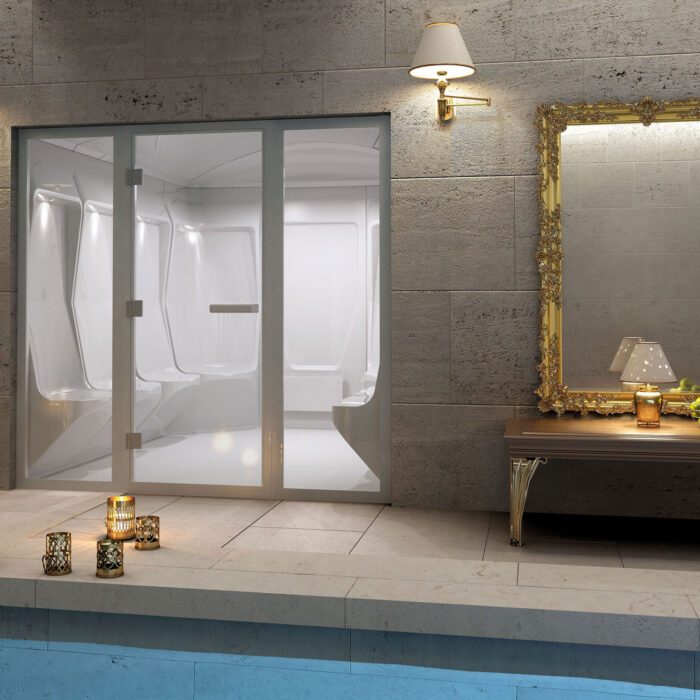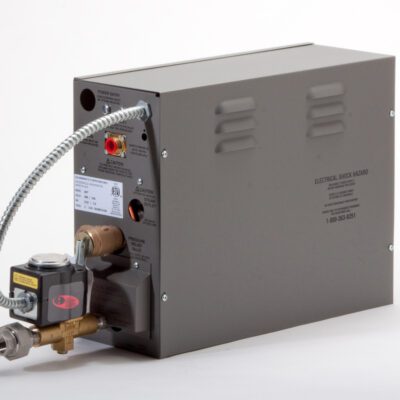 Steam Generators
Our steambaths generators are designed with your comfort and enjoyment in mind. Standard features include quiet operation, and "cool touch" steam heads. Also standard is "Soft Steam", perhaps the greatest steambath innovation ever — where the generator cuts back power to continue steaming and heating, rather than shutting off when reaching set temperature.
Whether using our 120-volt plug-in steam generator, or our most popular AK unit, the small physical size of our generators provides for more efficient installation. Stainless steel tank construction provides years of trouble-free operation, while standard manual drains or optional automatic drain systems offer longer generator life. The heating elements are removable for easy and economical service.
It's easy to convert a conventional shower into a personal steam bath. The compact generator may be conveniently installed in a nearby cabinet, closet, or other unused space up to 20 feet away from the steamroom enclosure. Plumbing and electrical connections are similar to those of a common residential water heater.