Our signature series of saunas have been so beautifully planned and laid out, it's hard to believe they're modular. With several different styles to choose from, you'll feel like you've designed your own personal sauna. And, because of the precision manufacturing, each sauna takes only a few hours to assemble.



Each Signature Sauna has hand-selected and finished boards from the finest quality woods. Unique angles and curves, precision finished doors and windows, and abundant use of glass give these saunas an elegant-upscale feel. Once you step into a Signature Sauna, you'll feel like you've entered your own private paradise.
Signature Series optional features include digital controls, misty heater, wall-to-wall duckboards, and many other accessories.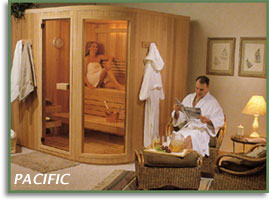 Pacific:
72"d x 84"w x 84"h (Exterior Dimensions)
Curved panoramic window, all-glass door
Includes low-voltage valance lighting, 2 benches, deluxe full-length backrest, headrest, duck boards, deluxe heater guard and bench skirts
Bucket, ladle, thermometer
Available in Select Nordic Whitewoods, Western Red Cedar, or other woods of your choice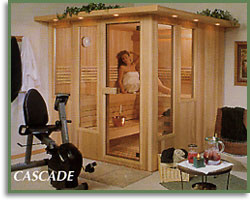 Cascade:
84"d x 84"w x 84"h (Exterior Dimensions)
4 bronze tinted sidelite windows, all-glass door
Includes 10" overhanging ceiling with exterior low-voltage lighting, interior low-voltage lighting, 4 benches, headrests, duckboards, 2 full-length curved backrests, deluxe heater guard and bench skirts
Bucket, ladle, thermometer
Available in Select Nordic Whitewoods, Western Red Cedar, or other woods of your choice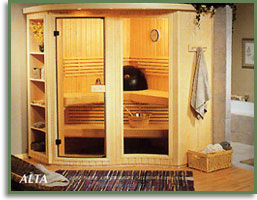 Alta:
72"d x 72"w x 84"h (Exterior Dimensions)
24" x 72" curved glass panel and 24" x 72" curved glass door
Includes overhanging ceiling with elegant low-voltage exterior lighting, interior low-voltage lighting, angled benches to compliment the neo-angle wall, headrests and curved backrests
Bucket, ladle, thermometer
Available in Select Nordic Whitewoods, Western Red Cedar, or other woods of your choice