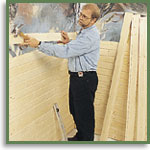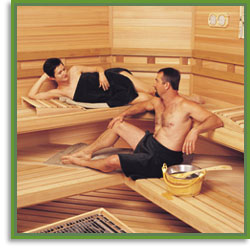 Is flexibility what matters most to you? Our pre-cut sauna packages contain all the materials and equipment necessary to complete your sauna (after the room has been framed, wired and insulated).
Our pre-cut sauna is great for the person looking for the ease in assembling a kit but wanting more flexibility in the layout. This is a superb sauna for constructing into the framing of an existing space.
We offer 38 standard pre-cut room sizes – from 3' x 4' up to 12' x 12', all with 7' ceilings (the maximum height recommended for optimum comfort and efficiency). Detailed construction plans help you prepare the room for quick installation.
Can't find what you're looking for? We provide custom pre-cut packages and layout planning assistance.
Standard Features:
Select Nordic Whitewoods or Western Red Cedar (1/2"x4" or 1/2"x6") tongue and groove wall and ceiling boards precut to length
Interior corner, ceiling and door trim
Pre-assembled benches
Heater guard rail
Pre-hung door (model G2PL)
Wooden duckboard or plastic mat flooring in walking area
Bucket and ladle
Wall light, thermometer
Headrests and backrests
Foil vapor barrier, all hardware

Optional Features:
Angles and unique bench configurations
Glass windows and sidelites
All-glass door, handicap accessible doors
Accessories
Digital controls
Misty or Saunatonttu heater
Bench skirting
wall-to-wall duckboards
Luxury benches
Deluxe backrests
Bench skirting
Valance lighting